Neuromuscular and Massage Therapists Register
Find a fully qualified and insured therapist to treat your acute or chronic pain.
Start typing and choose from the dropdown results. You can search by member name, therapy or location.
Or pick a popular therapy!
The ANMT has put together an extensive set of resources for members.
Why has the Association been established?
The ANMT is established to protect and enhance the rights and privileges of practicing therapies including, but not limited to:
Neuromuscular therapy
Sports massage
Massage therapy
The Association exists to: 
Promote honourable practice 
Repress malpractice
Settle disputed points of practice
Decide questions of professional usage of courtesy
Establish a register of members.
Benefits of ANMT Membership
Why should professional therapists register with the Association?
How Members Are Displayed
Association members are displayed in one of three membership categories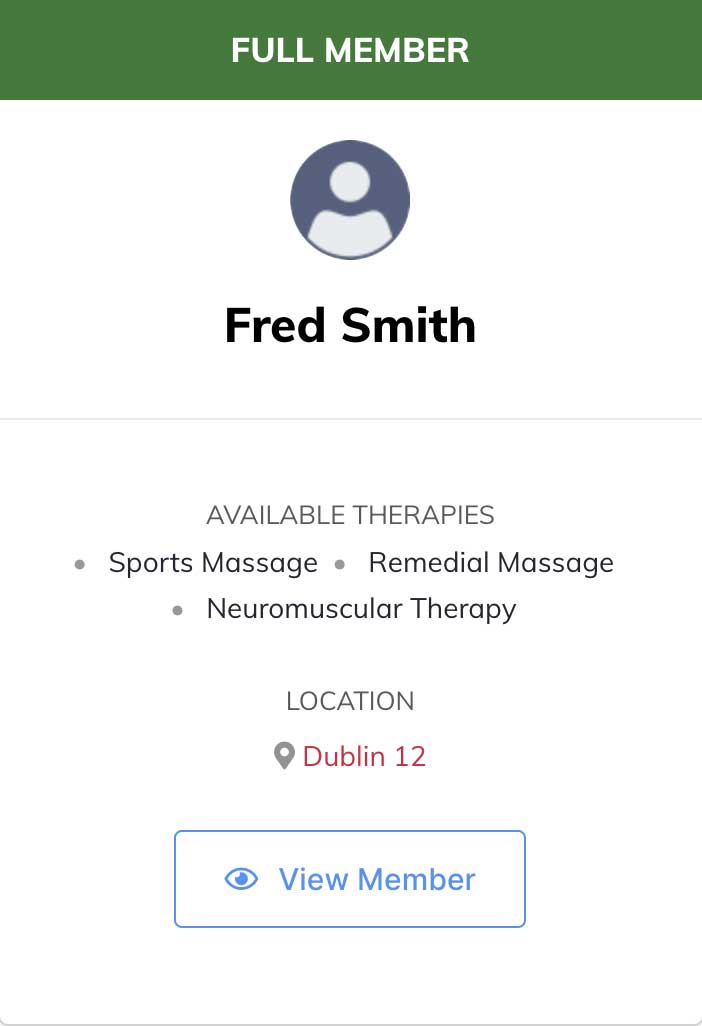 Members who are listed in this category have demonstrated to the Association that they have completed a recognised programme of education for each discipline that they list. These members have also submitted a copy of their Professional Indemnity Insurance policy. Treatments offered by these members are covered in line with the policy documentation for customers of LAYA Healthcare.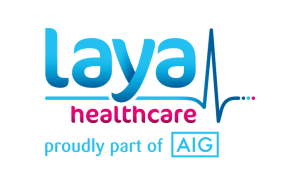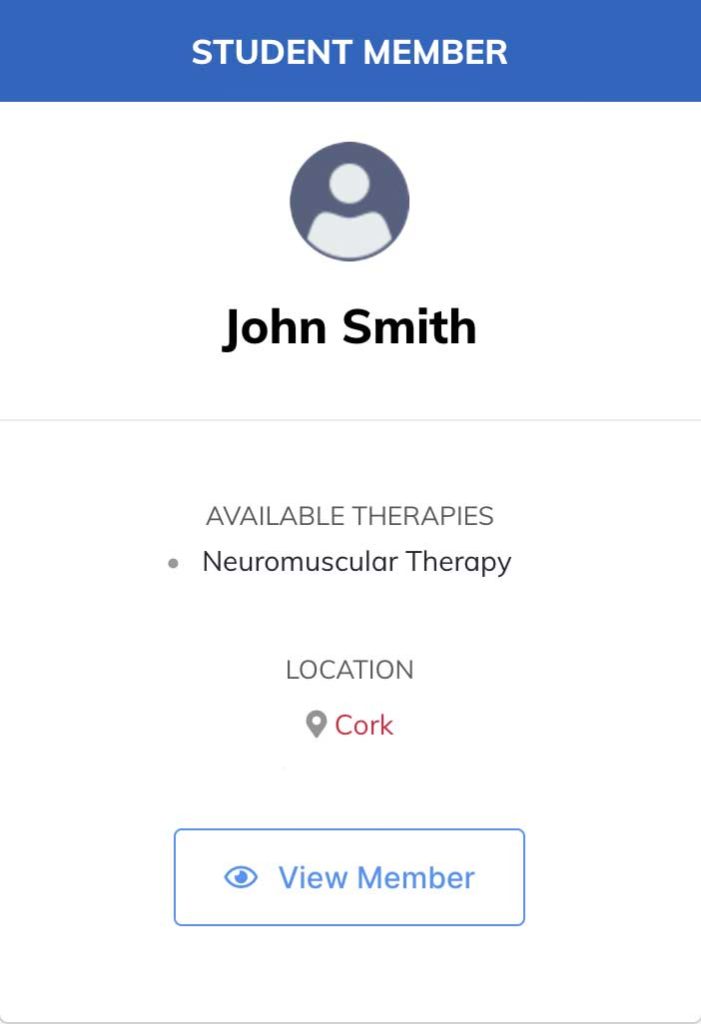 Members who are listed in this category are currently completing a recognised programme of education for each discipline that they list. Treatments offered by these members are for practice purposes and they are not authorised to charge a fee for treatment.
Information about some of the therapies available from Association members.
Protection of the 'Physical Therapist' title.
Since January 2018 the title 'Physical Therapist' has been protected and is administered for the exclusive use of Physiotherapists by CORU.
CORU is Ireland's multi-profession health regulator.
Their role is to protect the public by promoting high standards of professional conduct, education, training and competence through statutory registration of health and social care professionals.
CORU was set up under the Health and Social Care Professionals Act 2005 (as amended)
It is made up of the Health and Social Care Professionals Council and the Registration Boards, one for each profession named in our Act.
The professions to be regulated are:
Clinical Biochemists
Counsellors and Psychotherapists
Medical Scientists
Orthoptists
Podiatrists
Psychologists
Social Care Workers
CORU currently has registers open for the following professions:
Dietitians / Dieticians
Occupational Therapists
Physiotherapists
Radiographers and Radiation Therapists
Social Workers
Speech and Language Therapists / Speech Therapists
Optometrists and Dispensing Optic
The ANMT warmly welcomed the decision made by the (then) Minister for Health Leo Varadkar to protect the title 'Physical Therapist' under section 95(3) of the Health and Social Care Professionals Act 2005.
Since January 2018, only physiotherapists are legally allowed to identify themselves as a physical therapist. It was widely accepted from the outset of the establishment of the National Forum For Complementary Medical Therapies (established by the Department of Health and Children under the auspices of the then minister Micheál Martin) that this title would, in time, be protected along with a number of other specialties. 
Neuromuscular Therapists can continue to feel confident in providing therapies to their patients/clients and in playing a lead role in the future of complementary medical therapy in Ireland as Neuromuscular Therapy moves towards state regulation. Patients who are actively seeking a professional therapist specialising in myofascial and chronic pain, rather than a professional trained to work in the hospital setting, will now have any misunderstanding that may have existed removed. 
ANMT and NTC will continue to work within the National Forum to secure state registration for Neuromuscular Therapists at the appropriate time. ANMT membership protects our members' best interests and, in turn, protects the interests of the general public. 
We have been, and will continue to stay, in communication with the relevant authorities, and we look forward to any new developments that will benefit both our members and the general public into the future.